Spring pairs coloured core encased in clear with white dots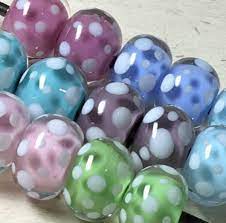 Description: Coloured core encased with clear with white dots. *Price is per pair 
Number of beads: 2 + bonus spacers
Bead size/s: Approximately 15mm dia x 11mm hole to hole
Hole size: Approximately 2.4mm
One pair of dotty beads, made with coloured core, encased in clear, decorated with white dots.  You can choose to have your beads etched to a soft finish should you so wish.  Perfect for turning into earrings. (Bonus spacer/s included)

Please remember: All beads are handmade specifically for your order therefore minor variations in size and pattern may occur, however overall styles etc will be maintained.

Kiln annealed, cleaned and temporarily strung.