Blank handbound book/journal small square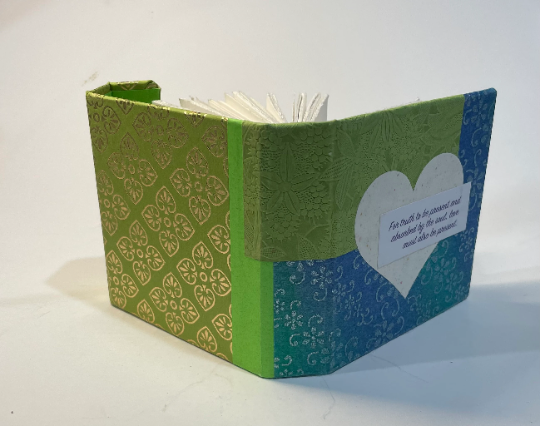 Handbound fully cased style book with blank pages, linen thread used, acid-free 130gsm cartridge paper, 96 pages, approximately 110x115mm (4.25" x 4.5"). Decorative papers used to cover front and back of book. Magnetic strip fastening.

This book has no decoration inside it and has been left blank for you to add your own images, words, drawings, pen and ink illustrations etc...

Acid-free, top quality cartridge paper for drawing, printmaking and mixed media; although 130gsm weight allows for more variety of use it will not tolerate significant wetting without the risk of buckling.

If you would like to have your book decorated, please select that option at checkout (minimum of 16 pages decorated) for an additional $5. If you would like to send me an email about where you are in your life (if you may perhaps be looking at journalling), or, if you are gifting the book, you may choose to share what is going on for your recipient; I am happy to try to make the decorations and inclusions more relevant if I am able to.